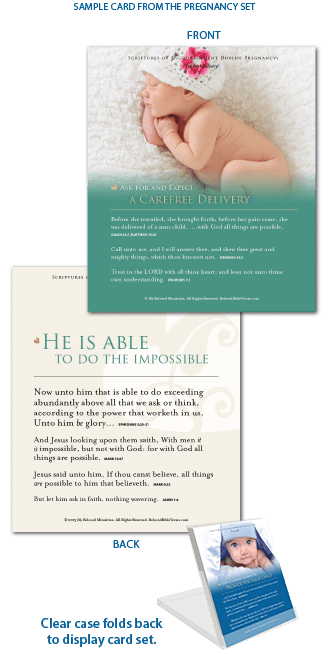 BELOVED BIBLE VERSES
Our gracious and loving God, who created the heavens and the earth, and all creatures, great and small, has provided a precious guide book for our daily existence. In that book, He joyfully celebrates the extravagant love between the bride and groom as well as the child He has created in the womb. He also equips us for every day life by providing direction and encouragement, a loving embrace in times of loss, and strength and honor in times of struggle and hardship. His word provides invaluable help in times of need. And for that reason, we have selected, with great care, beloved passages to encourage and uplift, inspire and comfort, and supply that needed word for you or your loved one today.
OUR INSPIRATIONAL SCRIPTURE CARDS
Our inspirational Christian scripture cards are nestled in a clear jewel case, the exact size and shape of a music CD, which opens fully to become an easel display. The design makes it easy to exhibit each card day by day on a table or desk much like you would a calendar. Plus, it's so slender when closed that you can slip it in your backpack or purse for travel on the go. Every collection includes 17 cards, professionally designed on both the front & back, which features an abundance of topically arranged verses from the majestic King James Bible. Each set contains the pure word of God for a particular topic without commentary.
OUR TOPICS INCLUDE:
Healing, Pregnancy, Youth, Military, Wedding, and Grief
Buy one for yourself, give one as a gift, or simply use the scripture quotes to inspire or encourage another.
To learn more, link over to our Beloved Bible verses website located at www.BelovedBibleVerses.com.