How God Healed Me
It was May 22nd when I stopped sleeping. Oh, it wasn't my choice. I wanted to sleep. Prior to that day I was a world class sleeper. But the next day, I desperately wanted to sleep. But no matter what I did, sleep would not come.
Four months went by and I never got sleepy at all. Believe me - being tired, exhausted, and worn out has nothing to do with your ability to sleep. Sleep is a gift from God. I finally decided that if I ever slept again, that I'd be thankful for even 15 minutes. And with that change in attitude, I did get sleepy – and yet I only slept a couple of hours and that was every 3rd or 4th night.
This went on for 19 months.
Have you ever missed a couple of hours of sleep? Do you remember how bad you felt? What about pulling a 24 hour shift and then starting it all over again the next day? and the next, and the next. There is a reason why sleep deprivation is called a torture treatment. Its just that – torture.
Heap on top of that the fear and anxiety of possibly never recovering after the doctor tells you that you may never sleep again. Despair is worse. Hopelessness is a vicious, debilitating and crippling evil - and I experienced that also.
But God, our loving God, our precious Savior, He paid the price for our healing, and He healed me – outright. This is my story.
The Illness
None of my doctors had any explanation or remedy for my illness. At one point I was seeing 5 doctors at one time. I tried conventional medicine, homeopathic remedies, relaxation therapies, and on and on. Nothing helped. I was consumed by the lack of sleep, I couldn't function, and nothing was worth exhibiting any amount of energy over. I had asked God to heal me, but continued to lay awake watching the clock every night – longing for sleep to come. I hated the darkness of night.
After 8 months, a clinic in Dallas diagnosed me with a strange ailment. It wasn't covered by insurance and they quoted a $12,000 price tag just to get started. I just sat in the chair crying. I was in such a mental and physical state by this time that we didn't know what to do. We asked the Lord to stop us in our tracks if this wasn't His will. Having no direction, the day arrived where we had to send the payment. We arranged to get the money and mailed it off.
The Bird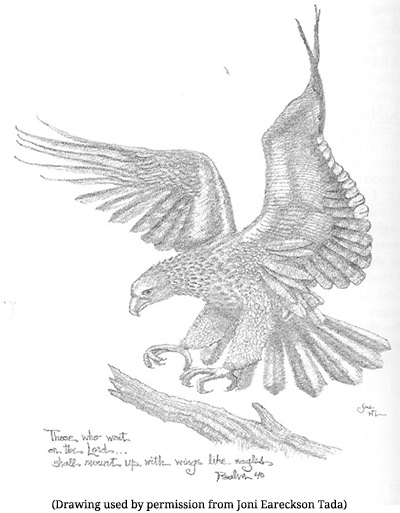 On February 13th of the next year, as my husband drove me to Dallas for my initial treatment, I whispered a little prayer to God and asked that He give me a book to read that would benefit me and yet would be easy enough to comprehend being in my exhausted state. We arrived and went to a mall close to where we were staying overnight to pick up some supplies we had forgotten. As we entered, there were tables in the hallway covered with what appeared to be used library books. You could purchase a whole paper sack worth of books for $10. We did.
The next day, the day of my first treatment, I started reading one particular book that I knew I was supposed to buy. It was A Step Further by Joni Eareckson Tada. A week later I came to a page which referenced Isaiah 40:30-31.
"But they that wait upon the Lord shall renew their strength; they shall mount up with wings as eagles; they shall run, and not be weary, and they shall walk, and not faint."
I turned the page and found a beautiful eagle that she had drawn. I gasped in surprise when I saw the image. She explained her interpretation of the text, which was to wait in the full assurance of God – knowing that He alone knows how much we can withstand and to look forward to the time when He will heal us. So what's so important about the drawing?
As I was praying late one night several months earlier, with my eyes closed I saw a brilliant scene of a majestic bird in flight that swooped down with claws extended to grab a V shaped object. It looked like an eagle to me but it didn't have a white head or tail. It was so vivid and impressed upon my heart that I arose from prayer and hen-scratched it on paper so I could remember it later. It was exactly, and I mean exactly, the image that she had drawn. My majestic bird was her eagle.
The Lord was telling me that He was going to renew my strength! I squealed with delight! But more than that, He showed me how much He loves us. He inspired me to ask for a book, had a book sale already set up, sent us to the right mall and then directed the purchase of this book. Think about it, He had her draw that eagle some 40 years ago (the book was published in the 1970's) just so that He could use it to show me how gracious and powerful He is. May He be glorified!
This encouraged me more than I can even describe.
I needed it because I didn't know at the time that there were eleven more months to go.
Thirty Thousand Dollars
Two weeks after the bird incident, my husband came home with a bonus check from his employer for $20,000. It was totally unexpected as he had only worked for the company for a little over a year. They had a successful year, but we were blown away.
Then, the following Monday, the man handed him another check for $10,000, calling it a "special bonus". We were totally astonished and in awe of the Lord. We knew He had all the money in the world, but we never asked God to provide the funds nor even thought to ask. He did it and showed His infinite power to take care of all our needs.
Now I want you to stop and realize what happened here and how God handles things. My husband had decided that the stress of his job was too much and had taken a rather large cut in pay to move into this job position. We had adjusted our monthly budget to the lower salary and here comes this totally unexpected bonus. I remember us struggling with the decision to take a lower paying job, but we knew that God would take care of us.
The most amazing part came when I went to prepare our tax return a year later. I added up our medical costs which we paid out of pocket. You guessed it – it was just slightly more than $30,000.
Think about it, this man wrote my husband the first check, and then three days later wrote him another one because God knew that we needed $30,000. So, doesn't God know how to take care of all things?
Then, He Pierced My Heart
Another 8 months passed by. My treatments were long over and I still wasn't sleeping. The doctor told me, "Karen, you may never sleep another day of your life, but it won't kill you."
Here I was, only 44 years old, and I may never sleep again?
For the first time in my life, I felt that I had no hope and would never recover. I was a walking skeleton having lost down to 90 lbs, unable to function mentally, and in complete despair. I had reached the land of "I don't care". If you've never been there, I would advise to never go there. It's a wicked place to be in.
I asked God twice to let me die. But He wasn't going to have that.
So, I made a plan - a plan to take my own life. In the enemy's darkness and error, I just didn't want to live this way anymore. Many days went by when I thought today would be the day that my husband took me to the insane asylum. But, he never had a clue what was going on in my head.
Then three pivotal things happened. First, a friend of mine handed me a book about the biblical teachings on healing. I began studying all of the scriptures that were specified in the book as my friend had graciously typed them all out for me. It was slow going, but for 6 weeks, the Lord kneaded my heart with the conviction that I experienced at the time of my salvation to trust Him for my healing. I pondered whether or not this could be true. If Jesus Christ paid the price for my healing in the atonement, and God made a covenant with His children for the healing of their bodies, and God the Father sent Jesus Christ to heal and He was the same today as when He walked on the earth, then couldn't it be possible that the Lord would heal me if only I trusted Him and asked Him in complete faith?
Day by day, He patiently, lovingly, and gently tugged at my heart to believe Him fully.
As I dressed one morning for work, pondering about the book, the scriptures and about the possibility of Jesus being my healer, God spoke to my heart with these words, "If Jesus were here right now, in the room with you, do you believe that he would heal you?"
Oh my goodness, the answer was a resounding "YES".
And then it hit me. Doesn't Jesus operate in the same way as He did when He was on the earth through the operation of the Holy Spirit? Isn't He here, in the room with me, waiting to heal me? I pondered these thoughts for several days.
The third significant thing occurred after my bible study group celebrated the Lord's Supper one night - I spilled the grape juice from a communion cup that I was cleaning.
Well you might say that's no big deal. But oh it was.
In that split second, I thought about the grape juice being a representation of the blood of Christ and God pierced my heart through and through with Hebrews 10:28-29:
"He that despised Moses' law died without mercy under two or three witnesses: Of how much sorer punishment, suppose ye, shall he be thought worthy, who hath trodden under foot the Son of God, and hath counted the blood of the covenant, wherewith he was sanctified, an unholy thing, and hath done despite unto the Spirit of grace?"
Had I trampled in His blood by not trusting Him?
Oh my! I would never discount His blood! I would never do that!
And He knew it.
I had reached a pivotal point in my life and I knew it. I had to decide right then and there what I was going to do. Neither my doctors, my family, or any amount of money in the world could heal me.
I decided to choose Jesus. I told the group that night that I was giving up on the doctors and was going to trust God for my healing. No one said a word. My mother hugged my neck and I left.
The next day I was re-reading the book on healing and I came to the statement, "Jesus is waiting to heal you." I got up and called a man and his wife that I had been referred to that would be willing to anoint me with oil and pray for my healing. They trusted God explicitly in these matters and invited me to their home.
They dabbed my forehead with a tad bit of oil as prescribed by God in James 5:14-15, prayed a short prayer for my healing and I left shortly thereafter. Although I knew little of this practice, there wasn't anything weird or strange about it. I felt no differently when I left than when I came but I decided I was going to believe and not doubt – no matter what came my way.
I walked forth for 21 days – just as the prophet Daniel did. And, there were indeed trials of faith during that time. He tested both my resolve to trust Him and my willingness to profess my healing despite any evidence of it. But, the next night, December 26th, I laid down and slept well all night long. And then the next night, and then the next.
God healed me!
HE HEALED ME!
After I started sleeping every night, it took me another year and one-half to fully recover from the physical and mental affects of not sleeping for so long. But God was faithful to restore me fully.
The best part is that Jesus truly is "the same yesterday, to day, and for ever." He was sent to heal us, it was a major part of His ministry and He still desires to heal today. He wants us to know the truth about His word.
"So then faith cometh by hearing, and hearing by the word of God."
Romans 10:17
As I read and re-read the scriptures, the seed of faith within me sprouted, then budded and finally blossomed to a point where I could really believe His promises. While I am truly a quiet and private person, I felt led to share this testimony with all the good and bad included in the hope that it would encourage someone. We serve a great and mighty, awesome God. What He will do for me, He will do for you. If you are sick and without hope, allow me to share one passage that meant the world to me as I searched for an answer:
"When he was come down from the mountain, great multitudes followed him. And, behold, there came a leper and worshipped him, saying, Lord, if thou wilt, thou canst make me clean. And Jesus put forth his hand, and touched him, saying, I will; be thou clean. And immediately his leprosy was cleansed." Matthew 8:1-3
Basically the leper said, "I know you can heal me, I just don't know if you will." But what did Jesus say? Two precious words. "I will."
That day and those verses were a turning point for me. But then, I read four verses down and found that Jesus said the same thing to the centurion, "I will come and heal him." Please know that there is one very precious passage written just for you – a passage that will convince you to go boldly to His throne and ask for healing, fully believing that He will. May I encourage you to search until you find it. Look up, weary one; You are precious in His sight, and He has a great plan for your life.